Christian Peace Officer Banner Page

Christian Peace Officers of Vermont Welcome You! (CPOV)

There is a special relationship among those in the Criminal Justice System. We call it the "Brotherhood or
Sisterhood." BUT there is a relationship that is closer than a Brother or Sister. There is only one way to become
a member of this "Special Brotherhood" and that is to have accepted Jesus Christ as Personal Savior, having
followed "The Plan."
The Banners you see below are sites worthy of spending some serious time on.
(Please click here to see the criteria to display your banner on this page.)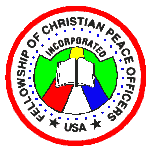 Rock 'n Sheild
Cop + Cross
Road of A Christian Cop (Missing, BUT not forgotten)


This Christian Peace Officer Banner Page is for display of banners (any size within reason) with a link back to the server that you have your banner stored on. Christian Peace Officers from any part of the Criminal or Military Justice System may submit their sites here. If you would like to have your banner here just e-mail me with your name and a brief, but sufficient, testimony on how you came to know the Lord. You may also direct me to the page that has your personal testimony on it. Return to "Top of Page"
Hit your "Back" button or Try one of AcreconaŽ's "Top Sites" below:
[ AcreconaŽ - LEO Links Directory ] [ A Dedication to Peace Officers (Worldwide) ] [ LEO Memorials ]
[ Police Poems ] [ Official Directory of State Patrols & State Police Sites ] [ State Trooper Home Pages ]
[ Vermont State Police ] [ Veterans' Links and Memorials ] [ Web Rings ]
E-mail me to have your site added

or Top