I built this web page to give a Special "THANK YOU" to all Our Military and Veterans. WE serve and have served The United States of America (our country) and we are "the proud ... and even more so ... the few" today.
I can't help but especially remember you who served in Nam. You came home and no one gave you a grand parade, yet there were those who did and were very proud of you. None the less, you served your country and don't let anyone take that away from you! Do NOT let your experience in Vietnam become an anchor around your neck either.
You must move on, forgive and forget (as much as is possible within you). Remember...many from Vermont (102 to be exact) made the "Ultimate Sacrifice" and Some never returned and are still missing. Personal information on the four men that Brattleboro lost.
This page is therefore especially dedicated to YOU who served in Nam. It is to give you the special recognition that you so rightfully deserve, and by the way (and I don't say this lightly), but if you didn't get a welcome home -
If you have any recommendations or links you would like to see here on this page please e-mail me .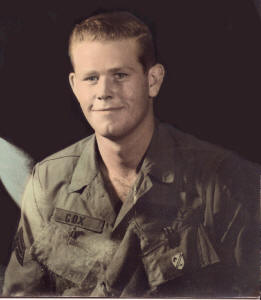 Sergeant Cox,
I'm looking for you. You served in Vietnam and may have served with my friend SP4 Paul Dartt, KIA, in the 1st Calvary.
You may have also served in Germany with him.
I got your photo from Paul's Sister. It was sent to Paul's girlfriend, at the time, but when she opened the large orange protective envelope (made in Germany) it did not contain his photo! It contained yours.
The photograph shows you, as above, with a shadowed side profile image of you in the background looking to the left side with your helmet with protective cover on. The photograph is 16L x 11.75W inches in size. Click photo to enlarge.
IF this is YOU or ANYONE knows you and/or where you are PLEASE e-mail me ASAP at: tdmartin2@myfairpoint.net